A permanent way to restore your missing tooth.
If you're missing a tooth, you may be self-conscious about the gap in your smile. But more than that, missing a tooth can affect your ability to chew and talk, and even the health of the adjacent teeth. A single ceramic or titanium dental implant is a safe, permanent way to restore your missing tooth with a prosthetic tooth that looks, feels, and behaves just like your natural tooth.
How a single implant works.
Dr. Thomas has many years of experience performing single dental implant procedures for people from all over the Halifax area, and has a high level of skill in this field. He and his caring staff complete the entire procedure conveniently right in our office, using either titanium or CeraRoot ceramic implants.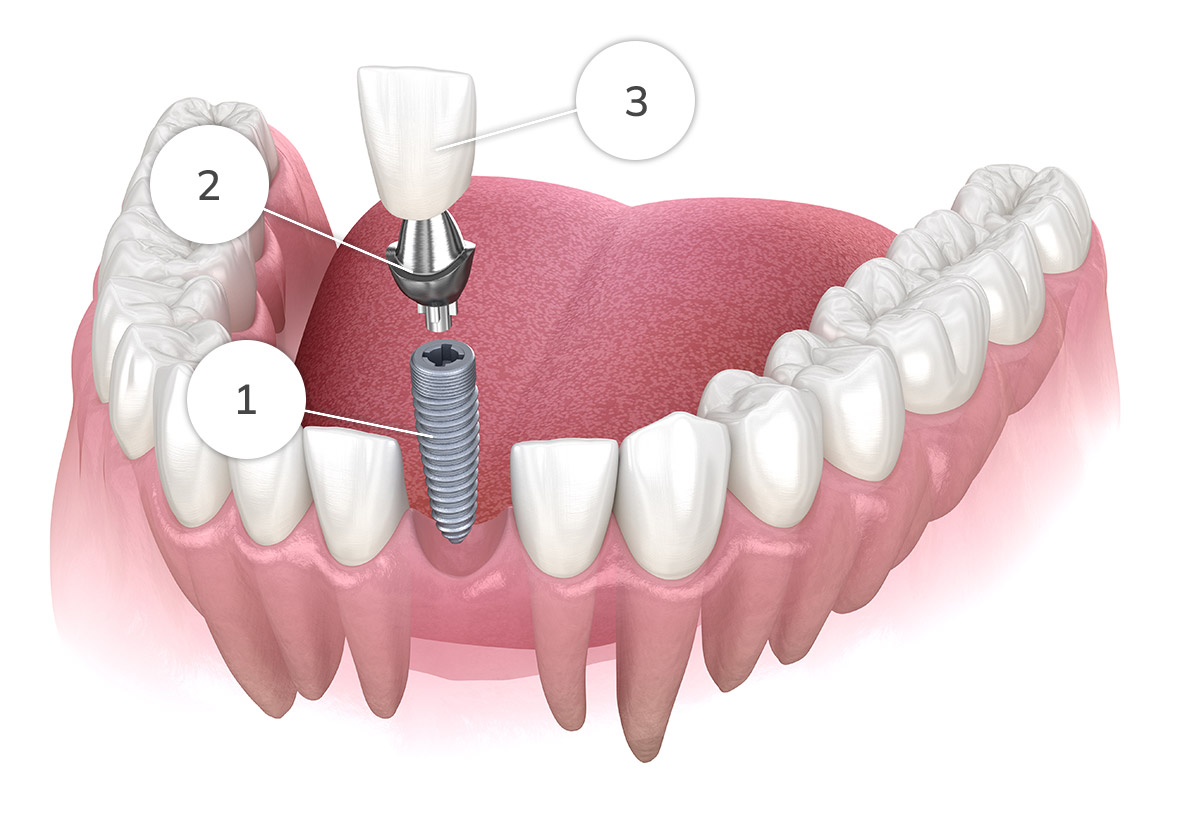 1

Titanium implant

This titanium post is a strong, non-toxic metal that acts just like a natural tooth's root in the jawbone.
2

Abutment

The abutment permanently attaches to the implant and provides support for a dental crown.
3

Crown

An artificial tooth (crown), custom-molded to match your natural teeth, is permanently fitted to the abutment.
We also offer ceramic as a single implant material.
Titanium implants have a proven history of success in dentistry. They're strong, non-toxic, and could last a lifetime. CeraRoot ceramic (also known as zirconia) implants come at a slightly higher cost, but also offer a number of additional benefits. Since they're white, any visible portion of the implant resembles the natural colour of a tooth; they're a single piece, so they're unlikely to retain bacteria; they're 100% corrosion-proof; and they're hypoallergenic, so they're safe for patients with metal sensitivities.
Image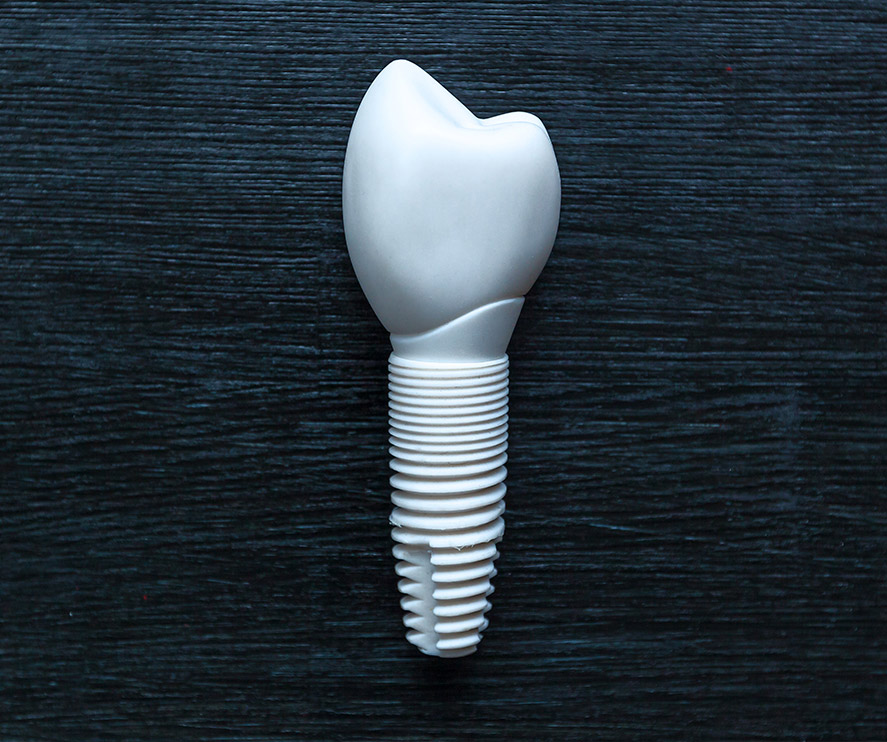 The steps in a professional single implant procedure.
Your dental implant treatment is a routine in-office procedure that's actually quite simple. Every treatment is conducted in a few stages—not all of which will apply to all people. Keep in mind that you may get teeth in a day, but the final restoration often involves several months of healing.
Consultation and X-ray

This is your chance to ask any questions you have about the procedure, and Dr. Thomas's opportunity to learn more about your needs and craft a custom treatment plan using our Cone Beam CT scanner.

Book an Appointment

Preparation of implant site

If you have a damaged or unhealthy tooth where the implant will go, we'll remove it, and if needed, perform a grafting procedure to create the best implant area possible.

Placement of the implant

Using a custom-made surgical guide to find exactly the right implant spot in your jaw, Dr. Thomas will place the implant in a simple and quick surgical procedure.

Placement of artificial tooth

After bone has grown and healed around the implant, we design and create a dental crown that's molded to match your natural teeth, and permanently attach it to the implant. Your new tooth is now complete!
The health and lifestyle benefits of your new single implant.
Restored bite force.
Given how firmly implants are anchored in your jaw bone, they restore your power to chew—just like you had with natural teeth.
More natural speech.
Implants function in a manner similar to natural teeth, allowing you to speak normally and with confidence.
It's long lasting.
The titanium or ceramic post that integrates with your jawbone is strong and inflexible.
It's biocompatible.
Both titanium and ceramic implants are biocompatible and corrosion resistant.
Prevent bone loss.
Your jawbone requires the stimulation that it gets when teeth are connected in order to maintain its mass. Dental implants provide this.
It's cost-effective.
Though a bigger investment upfront, over the period of your life dental implants may cost less than regularly replacing other restorations.
It's easy to care for.
Treat your implants similarly to your natural teeth when brushing and flossing. No special equipment necessary.
Begin your journey to new teeth with a personalized consultation.
A detailed professional exam is Dr. Thomas's opportunity to learn more about your needs and make an informed recommendation for treatment, and it's your chance to better understand the implant procedure. Take that first life-changing step now, and arrange your private, one-on-one meeting with Dr. Thomas.